Electrical safety devices
Electrical safety devices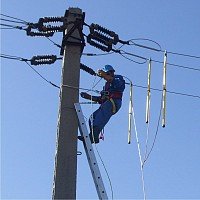 Electrical safety equipment means any personal protective equipment, protective device or accessory whose main purpose is to avoid user's injury when the work is carried out in low, medium or high voltage electrical networks, where electrical hazards can occur, most known being the risk of electric shock. To prevent this shock - which can in most cases cause death - there have been developed various means to protect workers through diverse methods from temporary insulation of the equipment or of the live electrical installation to earthing the installation through earthing and short-circuiting devices.
An earthing device defines a mechanical assembly used to achieve an electric circuit which perform an temporary connection of the conductors of the power networks with the ground. The mounting of the short-circuiting devices represents the main preventive measure to protect personnel against electric risk, in case of accidental occurrence of voltage at the working place. This working procedure must be carried out by two workers, in the following sequence of operations: a) Earthing the device, which is achieved by firm fixing of its earthing clamp to the artificial / natural earth grounding o... Read more...

The insulating sticks are protective devices designed to avoid the contact with live conductive parts and to assure the minimum approach distance towards live parts during manoeuvres in indoor or outdoor electrical installations. If for workings in low voltage installations there isn't a minimum approach distance (only the direct contact with live parts is forbidden), in medium and high voltage installations the minimum approach distance (provided by national regulations) varies from 0,8 m to 3,7 m depending on the nominal voltage of the installation and the type of installation. The operating... Read more...

The voltage detectors and indication/warning devices for voltage presence are electronic devices used as protective equipment against electrical risks. The voltage detectors are used to check the presence/absence of voltage in all types of electrical installations. The presence of voltage is double signaled, both optical and acoustical. The voltage detectors are manufactured according EN 61243 standard and they are always on stand by for checking of voltage presence. The voltage indicators and indication/warning devices for voltage presence are protective devices which can be fixed in indoor... Read more...

The insulated or insulating equipment is designed to prevent direct or indirect contact between live elements or conductors from electrical installations and the parts of human body.The contact between a part of the human body and a live part or conductor might occur by direct touching or indirectly, through a conductive object (e.g. a non-insulated tool). In order to prevent such a situation - which might cause injuries by electrical shock - the workers must use insulated / insulating equipment, specially designed to avoid the electrical contact between worker's body and live elements. In... Read more...

The Romind T&G High Voltage Testing Laboratory complies with the requirements of SR EN ISO/IEC 17025:2005 and is certified by RENAR to perform electrical testing for products designed to protect workers from electrical hazards (electrocution).

Personal protective equipment

The Personal Protective Equipment (PPE) is a specialized piece of clothing or an equipment worn by workers for protection against safety hazards. PPE is designed to protect different parts of the body: eyes (e.g. goggles), head (e.g. helmets), face (e.g. face shields), hands (e.g. gloves) and feet (e.g. boots). The wearing of a PPE can offer protection against: - Electrical risks by preventing direct or indirect contact with live conductors; - Mechanical risks acting as a protection shield of the body against elements that might cause injuries; - Explosions caused by electrical arc flash.... Read more...

Limiters of the working area

The limiters of the working area and the warning signs assure a special zone for workers and prevent unauthorized access of other persons in this zone.

To improve the operation and maintenance of installations for generation / transport / distribution of electrical energy, our company offers a range of specialized products that are intended to remove or reduce some of the risk factors present in these current activities. This range of products includes: - Equipment or devices that can be used to provide, in a short time, first-aid to injured persons (immobilized / in cardiopulmonary arrest); - Mechanical devices that block unauthorized access in installations or to electrical equipment.