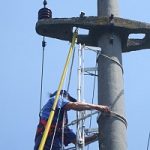 Anchoring devices are components of the fall protection systems used in work at height which allow the practical achievement of an anchoring point. Anchoring devices have different shapes (loops, hooks, cross beams, mobile beams, etc.), are made of different materials (textile fabric, metallic components) provided at the ends with elements that allow the connection to other components of the anchoring system.
Usually, the anchoring point obtained by means of such device is connected with a flexible anchoring support - "lifeline" (safety lanyard) or a retractable fall arrester. Flexible anchoring supports (also known as access ropes) are made from rope of various diameters. On these supports there are installed permanently or temporarily fall arresters provided with energy absorbers.
The mechanism of fall arresters must operate so that the worker does not fall more than 0,5 mm and the energy absorbers are designed to take over and dissipate the kinetic energy resulting from such falling from height.
All items of the above form an anchoring system.