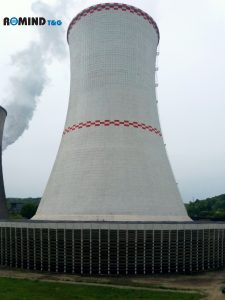 In June, Romind T & G engineers performed measurements to verify the thermal performance of the cross flow cooling tower no. 3 from SE Rovinari, after its capital repair.
The measurements were performed in accordance with STAS 9770-74 and other specific documents in the field of cooling tower performance measurements. Both classical measurement means and digital electronic means of indicating and acquiring data were used.
Following these measurements, it was found that the cooling tower, equipped with Romind functional components (R80 flame retardant cooling tower fill, DTCT water spraying nozzles, SS38 drift eliminators and supporting elements), operated under the conditions foreseen in the modernization, ensuring the energy savings projected by SE Rovinari.