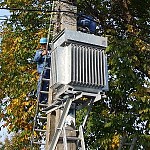 October 2012 is the date on which it was successfully installed – national premiere – the first Magnetic Voltage Booster in a three-phase LV distribution overhead network.
This event took place due to the constant concern of Electrica SA- SDEE Galati specialists to improve the quality of the electrical energy distributed to consumers and the agreement between the companies SDEE Galati and Romind T & G Bucharest on integration of such equipment in a three-phase LV distribution network.
The whole action had as goal to identify and test an optimal solution in terms of technical and economical efficiency on increasing the quality of electricity provided to consumers by improving (increase and stabilization) the voltage level for the clients situated in remote areas and away from the source and for the ones situated at the end of long circuits in LV networks.
The installation was preceded by a careful analysis of the area and of the installation circuit node in which this equipment would allow both monitoring its operation and performance. Choosing the connection node within a three-phase electrical LV overhead network and the equipment model were based on discussions conducted over several months between specialists from Electrica SA- SDEE Galati and Romind T & G representatives and the European manufacturer of the equipment. It has been taken into account the network topology, the network elements characteristics and the voltage measurements from site.
In order to implement this pilot project, all parties have reached a gentleman's agreement that foresaw bringing in the country and free testing for a limited period of time of a Magnetic Voltage Booster – model MVB160-400.
The testing period allowed the evaluation of purchase and installation costs, commissioning and operation performance measurement and technical evaluation of the obtained results, as well as evaluating the economic efficiency of such solutions compared to solutions currently used.
We take this opportunity to thank the specialists and management of Electrica SA- SDEE Galati for their professionalism and the excellent cooperation we have had for this pilot project.
For technical details on this pilot project, we recommend you to contact our specialist Eng.Gabriel Pascu.