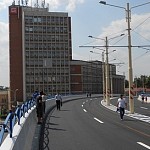 Tuesday, 26 February 2013, at CEZ Distributie Craiova took place an overview of modern solutions proposed by our company to be implemented for an efficient and safe electrical installation of the electrical distribution companies.
The following innovative solutions have been presented, solutions proposed to be applied in the electrical installations owned by CEZ Distribution:
1. Intelligent fault indicators for MV overhead lines in order to quickly localize the fault areas and shorten the time for intervention in case of emergency.
2. Magnetic Voltage Boosters (MVB) in LV networks in order to improve power quality for users from remote areas, by improving and stabilizing the voltage required by the standards.
3. Mechanical locks to prevent unauthorized access of persons in the transformer substations or cabinets.
4. Special voluntary locking devices for the switching devices – as a technical safety measure for works in electrical installations.
5. News regarding the work safety products.
The solutions presented a real interest among participants, the presentation turning into a real technical debate regarding the solutions and methods through which these devices can be tested in CEZ installations.