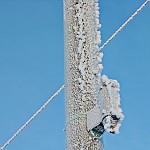 After several small-scale tests in Moinesti and Ticleni areas, developed over the last 10 years, OMV Petrom decided to start a collaboration with Romind T&G in order to increase the efficiency of the operation and maintenance of electrical networks, by implementing a modern system indicating the areas presenting damaged electrical installations, especially of MV overhead lines.
The test results determined the OMV Petrom experts to initiate the development of a pilot project for a more extensive use of these devices, in order to reduce the time of intervention in the event of a fault. The project started in the second half of 2012 allowed the installation of several types of fault indicators in various parts of the country in OMV MV networks.
The main monitoring area of these devices in 2013 is the mountainous area of Bacau County – Moinesti area – where there have been installed and configured a total of approximately 30 directional fault indicators equipped with GSM communication modem, along with a dedicated monitoring program (NetTroll) necessary in order to exploit these indicators. Held in winter weather conditions, the installation of these devices was successfully completed in December 2012. Shortly after its completion it started the monitoring of the devices and depending on the case, adapting their configuration and repositioning in order to allow a better exploitation of the entire system.
Also directional fault indicators were installed (without GSM modem) in the a few micro-pilot projects in Oradea area ( Suplacu de Barcau), Ploiesti (Floresti – Baicoi) and Targoviste (Moreni).