Code: P 2322-0-00  
The special device for lifting from the ground of phase clamps of MV three-phased short-circuiting devices is designed to improve the mounting / dismounting conditions. This device must be operated by two workers.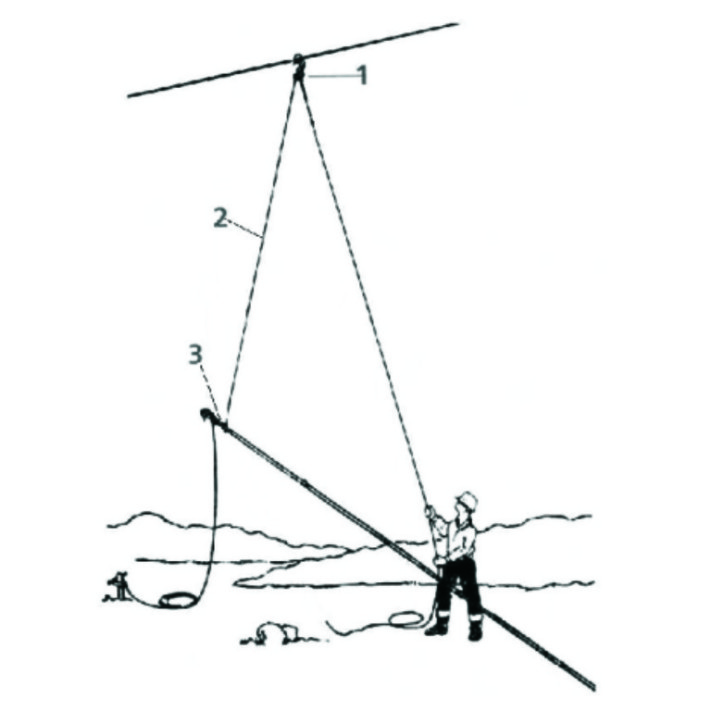 Lifting from the ground of the phase clamp, followed by its mounting on the overhead conductor can be a difficult operation due to the heavy weight of the assembly "earthing device + insulating stick" and due to the height of the mounting point (9 meters or more). To facilitate this procedure, a lifting clamp (1) (similar with a phase clamp) fitted with an insulating tube and a pulley should be placed on the highest overhead conductor. The lifting clamp has a lifting rope (2). The lifting operation should be performed with the lifting clamp fixed in a telescopic insulating stick PTU-AS-400-6-C.
Each phase clamp of earthing device should be fixed in the insulating extension (3). This extension is fixed in the coupling system of telescopic insulating stick PTU-AS-400-6-C.
By pulling the lifting rope, the phase clamp, fixed in the telescopic stick, can be more easy lifted to the overhead conductor and its positioning will be more precise. Also the dismounting of the phase clamps will be performed more easily because the worker can be focused to the handling of the stick, not to sustain the heavy weight of the assembly. For removal of the clamps from the line, a dismounting hook (fixed on the top of the stick) must be used.